The Civic Hall is a multi purpose venue in the heart of the village of Cottingham, near Hull in East Yorkshire, regularly hosting concerts, functions, meetings, fayres and much more. It is available for hire for parties, weddings, meetings, classes, sales, and public, private, and corporate events.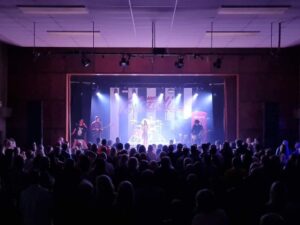 Main Hall
Our main hall is fully flexible and able to cater for both standing and seated events. The sprung dance floor is ideal for parties, concerts, fitness classes and tea-dances. We can provide tables and seating for dinners, buffets, meetings and more. Kitchen facilities are also available.
Main seating area: 50′ x 42′
Raised area by windows: 9′ x 42′
Stage (also has side areas and dressing rooms): 17′ x 25′
Side area (with bar): 12′ x29′
Total: 76′ x 42′
---
---
The Audrey Mosey Suite
A multi-purpose space for Classes, Meetings & Lectures with lots of natural light.
The Audrey Mosey Suite has been extensively upgraded using a grant from the I Am Fund in association with the Smile Foundation. The refurbishment included a new sprung dance floor to provide a space for young people to acquire skills in performing arts. We have named the room in honour of Audrey Mosey who provided the funds to set up the I Am Fund in her estate.
The room is 6.7 metres X 10.3 metres (22′ x 34′)
Features:
Thermostatically controlled heating.
Side storage room with sink and tea making facilities.
Toilets.
Accessibility:
Use the main entrance to access the first floor by either stairs or lift.
———————————————————————————————————————————–
The Oak Room
Only recently opened, the Oak Room is still in the process of being refurbished and re-purposed, but is available for hire and has already been used for meetings, a rehearsal space, a Fringe stage for Cottingham Folk Festival and various parties…
PLEASE NOTE – There is currently no disabled access to this floor, pending the installation of appropriate toilet and lift facilities.
———————————————————————————————————————————–
Enterprise Suite
Also recently opened, the Enterprise Suite has been refurbished and re-purposed and is now available for hire as a small meeting or conference space.
———————————————————————————————————————————–
Hire charges are flexible, depending on requirements – call or email us and we will be happy to discuss.