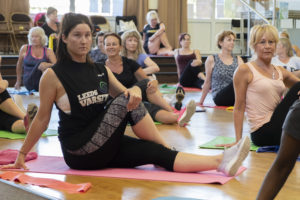 If its exercise you are looking for, with perhaps a little time for socialising too, you might like to contact Fitness Vibe? Classes include Zumba, Zumba Gold, Legs Bums & Tums and Strictly Fitsteps. For more details call 07910 797527.
If you'd like to exercise your creativity why not go to the Hull Art circle meetings? For more details contact Diane Rutherford (Tutor) on 01482 817890 or 07789 305640.
Music Time offers exciting, interactive classes for babies/young children and their parents, during term time.
The Beauchamp Dance Academy train young people in ballet and contempoarary dance – also a term time activity.
Heatwave Majorettes target young children with ambitions to become baton twirlers! Term time only.
A full list of our regular classes can be found below:              
Music Time – Monday & Tuesday mornings
Heatwave Majorettes – Monday late afternoon
Beauchamp – Tuesday evening, Friday evening & Saturdays
Zumba – Monday and Thursday evenings
Legs, Bums & Tums – Tuesday evenings
Zumba Gold – Wednesday mornings
Strictly Fitsteps – Friday mornings
Salsa – Monday evenings
Hull Art Circle – Monday evenings
Art Group – Tuesday mornings
U3A Ballroom Dancing – Tuesday mornings
Hull Musical Theatre – Tuesday evenings
Clubbercise – Tuesday evenings
Tiny Talk – Wednesday afternoons
Wado – Thursday evenings
Yoga (1-2-1 Coaching) – Friday mornings
Blood Donors (Monthly – check blood.co.uk for dates)
ER Flower Club (Monthly – last Monday afternoon)
Hep to the Jive (Monthly – Sunday afternoons)
Hull Astronomical Society (Monthly – second Monday evening)
National Trust (Monthly – third Thursday evening)
Parkinsons (Monthly – Sunday afternoon)
Local History Society (Monthly – first Wednesday evening)
There are occasional changes to activity dates/times so please check in advance.